STAINLESS STEEL FITNESS EQUIPMENT – QUALITY AND SERVICE


STAINLESS STEEL
THE NUMBER ONE CHOICE FOR AESTHETIC AND VALUE FOR MONEY
playfit® fitness equipment is made from high-quality stainless steel.
This high-quality equipment is not only visually appealing; it also represents long-lasting qualitys:
Robust and sturdy against damage and vandalism
Stylish design with generous dimensions
Elegant and therefore highly appealing
Reliable quality proven through thousands of life-cycle test
Corrosion resistant and long-lasting
Represents excellent value for money, thanks to easy upkeep and maintenance
"Resistance to wear" and "regular maintenance" are deciding factors for when choosing a long-lasting product that represents value for money. Experts agree: there is no substitute for stainless steel.
PROTECTION AGAINST CORROSION THANKS TO SELF-REGULATING PASSIVE COATING
Robust quality protects the equipment against vandalism, while the low-maintenance and easy-care properties of stainless steel make it an ideal material for use in public settings. The stainless-steel surface is protected thanks to the self-regulating passive coating.
Even in the event of damage, this transparent passive coating makes the equipment look new even after exposure to oxygen from the air or water. Stainless steel does not require any additional protection against corrosion and looks as good as new, even after decades of use.
ROBUST, LOW-MAINTENANCE AND EASY-CARE EQUIPMENT
Scratches, paint and stickers can all easily be removed from the matte brushed stainless steel surface of playfit® equipment. We're more than happy to advise you about how to maintain your equipment.
STAINLESS STEEL – A CLEAN, HYGIENIC SOLUTION
The scratch and abrasion-resistant stainless steel prevents the surfaces of the equipment from becoming a breeding ground for bacteria, even with regular use. Only the consistently high chemical and mechanical resistance of stainless steel can guarantee reliable quality and hygiene, as well as a great aesthetic.
The smooth, hard surface material doesn't become rough or cracked as a result of continuous mechanical, thermal or chemical stress, meaning that bacteria and fungi cannot settle, even with intensive use. Stainless steel is used as a standard material in the food and healthcare industries in order to comply with hygiene regulations.

A CHANGE OF COLOUR
playfit® is seeing RED
The standard colour for all plastic components on playfit® equipment is RAL 3003 'Flame red'. The colour red is symbolic of power and life. It is both stimulating and activating. Red is also the colour of luck. A high-quality coating on the plastic components protects against dirt.
But if you prefer other colours, playfit® can also supply the plastic components of their equipment in any other RAL colours. Tell us your wishes.

SAFETY
MORE SAFETY, MORE VALUE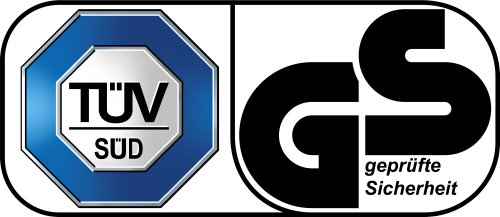 Tried and tested Quality
playfit® equipment meets the requirements of DIN EN 16630:2015 for permanently installed outdoor fitness equipment.
All playfit® equipment carries the GS [Tested Safety] mark for equipment made and production processes carried out in accordance with §20 of the German Product Safety Act (Produktsicherheitsgesetz), tested and certified by Germany's TÜV Süd monitoring organisation.
GREAT VALUE IS PLACED ON QUALITY AND SUSTAINABILITY
Ökoprofit-Business
At playfit® great value is placed on quality and sustainability. Our motto, "playfit®: get motivated, get moving" reflects this philosophy and, in fact, we are currently in the process of introducing and implementing an operational environmental management system.
One of the first results of this process was that, in January 2019, we were awarded the "ÖKOPROFIT" certificate.
ÖKOPROFIT ("Ökologisches Projekt für integrierte Umwelttechnik") is a project that was initiated in Germany to enable commercial enterprises to benefit financially through measures designed to improve and develop their preventive environmental protection systems. At the same time, the idea was also to improve the environmental situation of regions where the program is implemented.
Active partner – Environmental Partnership Hamburg
Also in January 2019, we joined the Hamburg-based environmental partnership initiative as an active partner ("Aktiver Partner der UmweltPartnerschaft Hamburg".) This initiative was set up by Hamburg's local commercial organizations and by the senate of the City of Hamburg with the objective of promoting environmentally sound and sustainable economic and commercial development.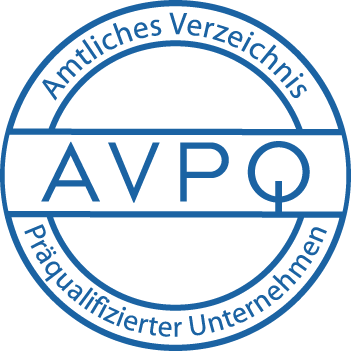 AVPQ
playfit® is also registered in the Official Register of Prequalified Companies of the Chambers of Industry and Commerce for the supply and service sector.

playfit® sets STANDARDS
Working with the German DIN committee and the European CEN committee
playfit® played a significant role in the development of the German standard DIN 79000 for permanently installed outdoor fitness equipment (NA 112-07-08) and the European norm EN 16630 for permanently installed outdoor fitness equipment.

MEMBERSHIPS
DIN – German Institute for Standardization
According to a contract with the Federal Republic of Germany, DIN is the German standardisation organisation responsible for European and international standardisation activities.

IAKS – International Association for Sports and Leisure Facilities
IAKS is the International Association for Sports and Leisure Facilities. IAKS and its members make up a worldwide network for the planning, construction, modernisation and management of sports and leisure facilities. The aim of IAKS is the worldwide creation of high-quality, functional and sustainable sports facilities with a focus on international exchange and the further development of quality standards.
Edelstahl Rostfrei e. V. – Trademark Association for Stainless Steel
The trademark association Edelstahl Rostfrei was created in 1958 to clearly identify quality-conscious manufacturers, processors and suppliers of stainless steel. Edelstahl Rostfrei e. V. was founded in 1960 as the awarding authority for this quality seal. With over 1,000 predominantly medium-sized members, it remains the voice and service partner of the companies that use the internationally protected trademark as a seal of quality. For more information, visit Partners with added value through quality seals and Material of the future: stainless steel.

FROM PLANNING TO SERVICE
RANGE OF SERVICES FROM PLAYFIT®
Take advantage of our experience – we support you through each phase of the design and operation of your outdoor fitness park. To help you with your decision process, we offer:
On-site consultation: consultation with decision makers and with the people and groups involved in the project
Site inspection/analysis: inspection of the intended site, and discussion of alternatives if required
Advance requirement analysis: establishment of the main focus and user profiles for the outdoor fitness park
Introduction of the equipment system and assistance with planning for different fitness zones
Visualisation with the help of a site plan
Advice and support during the entire implementation phase
Assistance with the opening of the fitness park
Advice and support for the activation and long-term use of the proposed fitness park
Offer of operational inspection and annual inspection in accordance with DIN EN 1176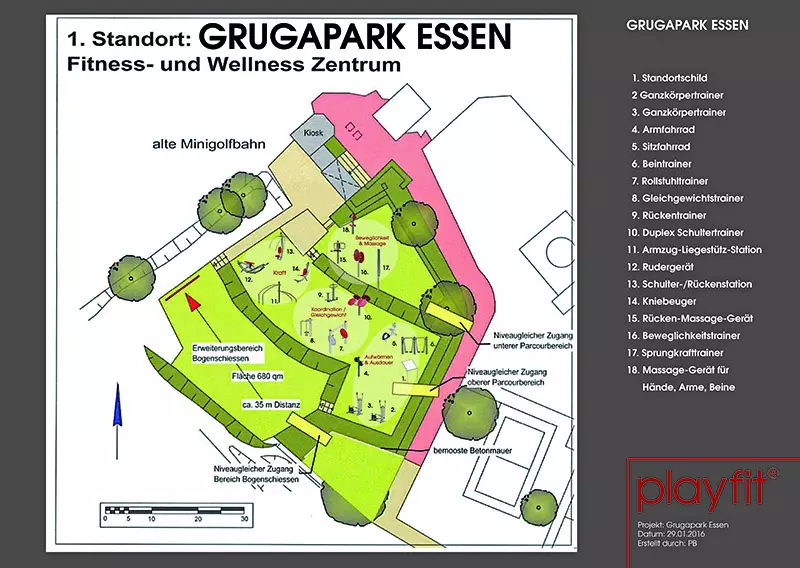 DOWNLOADS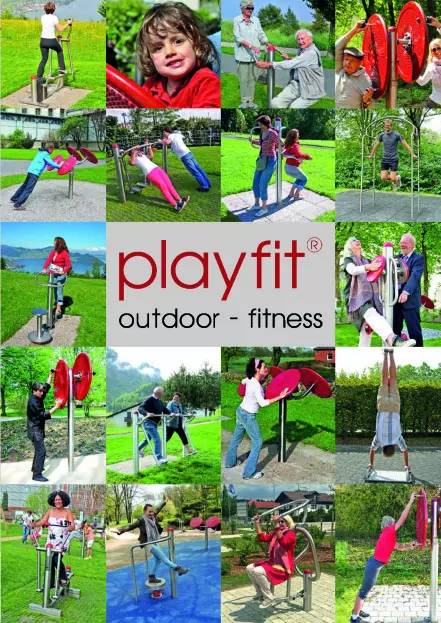 Product-Flyer
Our Product-Flyer gives you the first overview of the playfit® range.
Upon request, we will send you our product brochure with detailed information on playfit® equipment.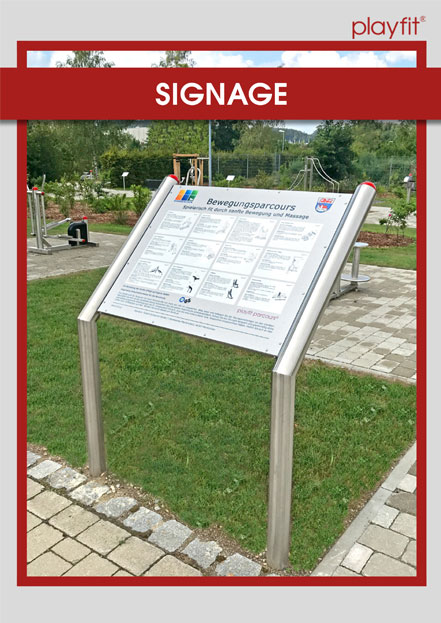 Signage
Find out more about our signage options here
LOCATION SIGN
LABELLING for equipment
SIGNPOSTING to be installed next to each piece of equipment: Clear, easy-to-understand exercise instructions at three different performance levels (easy – medium – hard) and clearly identifiable graphics guarantee users a professional level of training adapted to their own performance level.
UPON REQUEST WE CAN ALSO SEND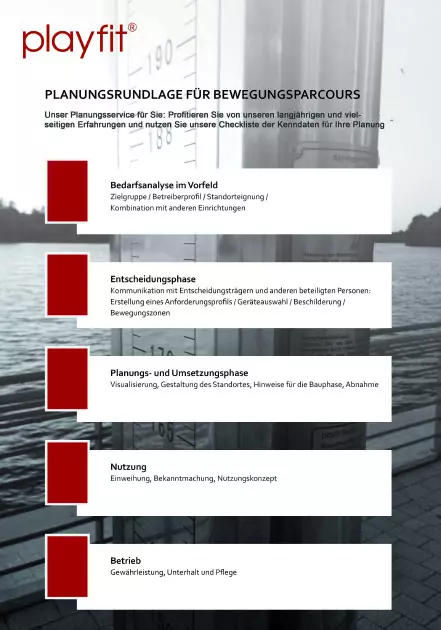 Planning check list for the fitness park
To make your outdoor fitness park a success, you need thorough planning spanning the whole process, from the initial idea to long-term use of the equipment.
There is no magic formula for planning a fitness park. Each location has to be considered individually. Use our check list of characteristics to help plan your fitness park.
Use Concept
It makes sense to take into consideration the future use of the park right from the planning and design stages. It is not always enough to simply set up a fitness park and hope for the best. Though playfit® equipment is largely self-explanatory and encourages casual use, further measures can be taken to ensure the park is used to its full potential.