EXERCISE PROGRAMME


WHY A EXERCISE PROGRAMME ?
playfit® machines are very inviting: the attractive design makes you want to try them out and their ease of use and harmonious movement encourages repeated and regular use.
Brief exercise instructions are provided for each machine. However, use of the playfit® equipment can also be intuitive, in other words anyone can choose the exercises and the routine that they personally find is the most enjoyable and has the most pleasant effect. The low load involved (no weights) mean that it is virtually impossible to train incorrectly when doing the exercises.
Nevertheless, as manufacturers we are often asked by exercise instructors and training groups whether there is a specific training programme for playfit® equipment. We have responded to this in the form of the following playfit® exercise programme. Trainers can use them as a basis for their sessions or they may be used by the "trainees" themselves as an additional aid to their exercise routine. Regularly changing the exercise as part of a variety of training sequences enables the mobilisation of lots of muscle groups; it also avoids the exercises becoming too monotonous.
In an amazingly simple and playful way playfit® machines help improve circulation, agility, coordination and the relaxation of muscles. The massaging of acupuncture points on the palms of the hands, legs and back has a relaxing effect and brings both calmness and strength.

EXAMPLES

WHY A FITNESSPARK ?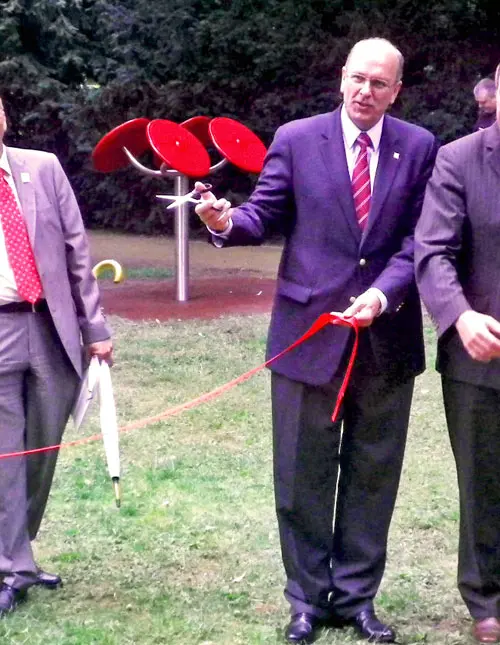 "Exercise is a crucial factor in promoting and maintaining health in all types of situation. Against the backdrop of what is an increasingly ageing population, a healthy lifestyle from a young age is becoming more and more important. People who can live an active, independent life as long as possible, and can take part in social activities will in all likelihood stay physically and mentally healthy for longer"
Hesse's Social Minister Stefan Grüttner at the opening of a playfit® fitnesspark in Hanau in June 2011.

"Scientific findings indicate that sports activities can contribute to a reduction in anxiety and depression, increased stress tolerance, improvement to basic mood and a greater level of happiness overall. The social aspect also plays a considerable role in this process. The fitness trail offers the opportunity to meet people when doing sport and exercise and keeps social isolation, a feeling of being left out and stigmatisation in old age at bay"
Prof. Dr. Volker Beck from the Social Sciences and Social Work Department at the University of Darmstadt.
Here you can find more information about the playfit® Fitnesspark