FROM THE PLANNING STAGES THROUGH TO SERVICE
RANGE OF SERVICES FROM PLAYFIT®
Take advantage of our experience – we support you through each phase of the design and operation of your outdoor fitness park. To help you with your decision process, we offer:
On-site consultation: consultation with decision makers and with the people and groups involved in the project.
Site inspection/analysis: inspection of the intended site, and discussion of alternatives if required
Advance requirement analysis: establishment of the main focus and user profiles for the outdoor fitness park
Introduction of the equipment system and assistance with planning for different fitness zones
Selection of equipment / recommendations for signage design
Visualisation with the help of a site plan
Advice and support during the entire implementation phase
Assistance with the opening of the fitness park
Advice and support for the activation and long-term use of the proposed fitness park.
Offer of operational inspection and annual inspection in accordance with DIN EN 1176.
PLAYFIT® LEASING OPPORTUNITIES (ONLY IN GERMANY)
Leasing opportunity for purchasing equipment
Leasing is currently the easiest way to invest in new technology and equipment while preserving liquidity. Thanks to our collaboration with LAK Leasing, which is one of the most experienced leasing companies in the industry in Germany and has financed various investment projects in the areas of nursing, medicine and social economy for over 25 years, we are now able to offer leases for purchasing playfit® equipment.
DOWNLOADS

Product flyers
Our playfit product flyers provide you with an overview of the products on offer at playfit®.
Upon request, we will send you our product brochure with detailed information on playfit® equipment.

Signage
Find out more about our signage options here
LOCATION SIGN
LABELLING for equipment
SIGNPOSTING to be installed next to each piece of equipment: Clear, easy-to-understand exercise instructions at three different performance levels (easy – medium – hard) and clearly identifiable graphics guarantee users a professional level of training adapted to their own performance level.
UPON REQUEST WE CAN ALSO SEND
Information on the fitness park
Information on the fitness park for anyone in the early stages of deciding whether to purchase a fitness park.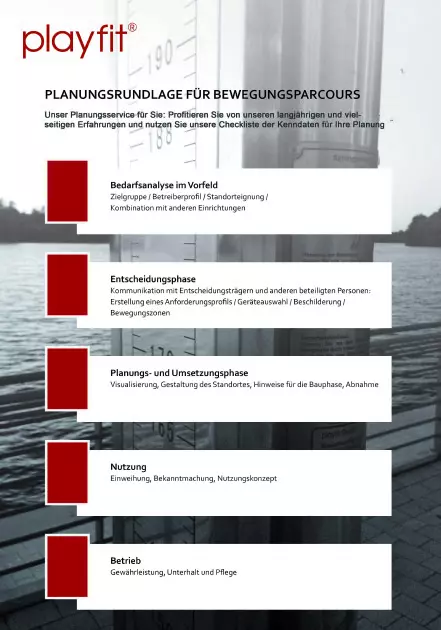 Planning check list for the fitness park
To make your outdoor fitness park a success, you need thorough planning spanning the whole process, from the initial idea to long-term use of the equipment. There is no magic formula for planning a fitness park. Each location has to be considered individually. Use our check list of characteristics to help plan your fitness park.

Use Concept
It makes sense to take into consideration the future use of the park right from the planning and design stages. It is not always enough to simply set up a fitness park and hope for the best. Though playfit® equipment is largely self-explanatory and encourages casual use, further measures can be taken to ensure the park is used to its full potential.

Evaluation of customer surveys
In order to asses and meet the needs of our customers, we carried out a customer survey in 2011/2012. In total, over 200 questionnaires were sent to customers who have who have been using playfit® equipment for more than two years. We were delighted with the feedback. The evaluation of customer surveys was based on the sample of 87 completed surveys.