HORIZONTAL BAR
back to fitness equipment overview
EFFECTIVE STRENGTH TRAINING WITH THE HORIZONTAL BAR
Exercising with the horizontal bar offers a functional training frame for a variety of exercises.
A strenuous workout for strengthening and building muscles specially in arms, back and shoulders. Suitable for all ability levels.
MAIN FUNCTIONS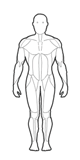 Stretches
Stretches the entire torso and improves flexibility. Hanging on the bar stretches out the shoulder and chest muscles. As the weight is lifted from the spine and the body weight is pulled down, the entire spinal column is stretched out. The individual vertebrae are spaced apart from one another.
Push-ups
Trains the shoulder and arm muscles as well as the chest muscles. Improves strength, flexibility and vital functions.
Jumping Bars
Trains the arm and shoulder muscles and improves jumping strength in the legs, as well as supporting and gripping strength.
Pull-ups
Strengthens the shoulders, the arm flexor and extensor muscles, as well as the upper lateral back muscle structure. This exercise also provides a reactive workout for the abdominal muscle chain, which in turn stabilises the torso.
INSTRUCTIONS FOR USE
Which exercises can be done on the outdoor horizontal bar?

STRETCHES:
Stretch your arms up and hold onto the bar best suited for your height with your hands a shoulder's width apart so that your palms are facing forwards and your thumbs facing inwards.
Pull yourself up so that your feet are off the ground and hold for a few seconds.
PUSH UP:
Position your hand on one of the lower bars, keeping the body tense and straight.
Start doing push ups, making sure your body stays straight.
JUMPING BARS:
From standing position, jump up to the lower horizontal bar and hold for a few seconds.
PULL-UPS:
To train your arm muscles, hold onto the bar best suited to your height with your hands a shoulder's width apart and your palms towards your face.
Your arms and shoulders should both ideally be bent at around 70-90 degrees rather than fully stretched.
Now pull yourself up slowly as far as you can. Keep your shoulders as far away from your ears as possible.

Tipps:
Try different grip variants on the pull-up bar (e.g. gripping the bar from the other side with palms facing towards you or from the front with palms facing in the other direction), this requires different muscle groups.

PRODUCT INFORMATION
Model No.
JS-0121D / JS-0131D / JS-0141D
Maximum number of users
2 / 3 / 4 (1 person per horizontal bar)
Maximum user weight
150 kg
User group
Body height greater than 140 cm (EN 16630)
Material
Stainless Steel and Plastic components (ABS)


Colour
Plastic components "Ruby red" (RAL 3003)
– plastic components can also be supplied in any other RAL colours
Certification
Tested and certified according to EN 16630
Equipment dimensions (LxW)
JS-0121D: 2900 mm x 100 mm
JS-0131D: 4300 mm x 100 mm
JS-0141D: 5700 mm x 100 mm
Height above ground surface
2310 mm
Free height of fall
2200 mm
Height of Horizontal Bar above ground
JS-0141D: 700mm, 1200 mm, 1700 mm, 2200 mm
JS-0131D: 1200 mm, 1700 mm, 2200 mm
JS-0121D: 1700 mm, 2200 mm
Movement space (LxWxH)
JS-0121D: 6500 mm x 4100 mm x 2500 mm
JS-0131D: 7800 mm x 4100 mm x 2500 mm
JS-0141D: 9200 mm x 4100 mm x 2500 mm
Similar Equipment
In addition to the Horizontal Bar there are also other equipment models with Strength as the Main Function
e.g. the playfit® Stand and Pull model or the playfit® Calisthenics-System


Additional Equipment
If you require a set of outdoor-fitness equipment combined in such a way to allow a coordinated exercising schedule please do not hesitate to contact us. We will be most happy to recommend an optimal combination based on recommended fitness-training schedules and sports science while taking into consideration any specific customer requirements.