CALISTHENICS SYSTEM
back to fitness equipment overview
Calisthenics is a new type of physical training that is rapidly gaining popularity, especially among young people. No specific equipment is required for training because the exercises work exclusively with your body weight.
Whether your goal is to build up strength, increase your fitness levels or learn a specific movement, calisthenics offers flexibility, body control and a fun way to get moving. There is a wide range of exercises to choose from. People of all ages, abilities and almost any weight category can do a calisthenics workout.
Every single person has different requirements, which means the range of training options has to be broad and offer plenty of options. Calisthenics equipment can be used as required by each individual person: to provide a healthy way to spend leisure time in public parks, for physical education in schools or for performance-oriented training in sports clubs.
LOCATIONS
The playfit® calisthenics series is ideal for:
public parks and other open spaces
sport facilities & clubs
schools and universities
rehabilitation and treatment clinics
recreational facilities
CALISTHENICS STATION STANDARD
The playfit® Multifunction Unit consists of:
Vertical Bar
Monkybar
Bar 2 levels
Additional modules available for the playfit® calisthenics series:
2 Parallel Bars or 3 Parallel Bars
Bar 3 levels
Monkeybar curved or Monkeybar transversal
Snakebar
Hexagon with or without Fly-Over Modul
Square with or without Fly-Over Modul
Ninja-Modul
MAIN FUNCTIONS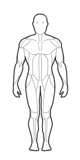 With the all-around fitness exercises, most body muscles can be activated.
Training at the calisthenics facility promotes inter- and intramuscular coordination and strengthens the cardiovascular system.
Improves
strength
body control
flexibility
INSTRUCTIONS FOR USE
The versatile playfit® Multifunction Unit is suitable for a wide range of individual training exercises.
Training options for three performance levels (basic – intermediate – advanced)
BASIC
STRETCHES: All bar equipment can be used for various stretching exercises.
HANGING EXERCISE: Try hanging from the top rungs of the equipment.
SQUATS: Stand facing the vertical bars. Hold the bar that roughly corresponds to your shoulder height, crouch down into a squat. For a more challenging workout, hold onto a bar at stomach height.
INTERMEDIATE

PUSH-UPS: Keeping your body tensed, hold onto one of the bars with both hands and start to do push-ups.
Progression: Increase your distance from the bar by placing your feet further behind you.
LEG LIFTS: Hanging from one of the horizontal or vertical bars, raise your knees alternately or simultaneously. Experienced users can try straightening their legs and pulling them upwards into a horizontal position.
ADVANCED

MONKEY BARS: Start by hanging from the first of the horizontal bars, then move from bar to bar by using your hands or your hands and feet at the same time until you reach the other end.
PULL-UPS: To train your arm muscles, hold onto one of the bars with your hands shoulder-width apart and your palms towards your face.
Now slowly pull yourself up as far as you can.

Tips:
Try different grip variants on the pull-up bar (e.g. gripping the bar from the other side with palms facing towards you or from the front with palms facing in the other direction), this requires different muscle groups.

PRODUCT INFORMATION
Model No.
JS-0235D
Elements
Vertical Bar
Monkeybar
Bar 2 levels (Heights: 2200 mm, 1700 m)
Maximum number of users
4
Maximum user weight
120 kg
User group
Body height greater than 140 cm (DIN EN 16630)
Material
Stainless Steel and Plastic components (ABS)
Colour

Plastic components "Ruby red" (RAL 3003)
– plastic components can also be supplied in
any other RAL colours
Certification


Tested and certified according to DIN EN 16630

Equipment dimensions
(Length x Width)
4200 mm x 4300 mm
Height above ground surface
2.332 mm
Free height of fall
2.328 mm
Movement space
(Length x Width x Height)
8304 mm x 8404 mm x 4528 mm
Similar Equipment
In addition to the Mulitfunction Unit, other playfit® equipment is also available where the emphasis is on strength exercises:
e.g. the playfit® Multifunction Unit MICRO, Horizontal Bars or the playfit® model Stand and Pull.
Additional Equipment for Multifunction Unit / Calisthenics System "Standard"
Additional playfit® equipment for a comprehensive calisthenics exercise schedule:
Parallel Bar, Sit Up Bench, Handstand Press-up Trainer and Jump and Reach.
ADDITIONAL VARIANTS OF CALISTHENICS STATIONS
In addition to our tried-and-tested standard Multifunction Unit JS-0235D we can also supply 2 larger models which are also fitted with a variety of added-on exercise modules.
Calisthenics System "Premium"
This system includes as additional modules:
Vertical bar

Monkeybar

Bar in 4 levels (Heights 2200 mm, 1700 mm, 1100 mm, 500 mm)
Snakebar
Hexagon
3 Parallel Bars (Height 1000 mm)
Calisthenics System "Premium PLUS"
This system includes as additional modules:
Vertical bar
Monkeybar
Monkeybar transversal
Ninja-Modul
Snakebar
Hexagon with Fly-Over Modul
8 Bars (Heights 2200 mm, 1700 mm, 1100 mm, 500 mm)
2 Parallel Bar (Height 1000 mm)
3 Parallel Bars (Height 1000 mm)
INDIVIDUAL MODULES FOR OUTDOOR CALISTHENICS SYSTEM
If you require a specific made-measure solution for your planned calisthenics system, playfit® also supplies a wide range of modules to choose from and allowing you to combine these individually according to match your requirements.
Additional Equipment
If you require a set of outdoor-fitness equipment combined in such a way to allow a coordinated exercising schedule please do not hesitate to contact us. We will be most happy to recommend an optimal combination based on recommended fitness-training schedules and sports science while taking into consideration any specific customer requirements.