Walker
back to fitness equipment overview
GREAT OUTDOOR WORKOUT WITH THE AIR WALKER
Just like floating on air!
Without much effort, exercising on the air walker is similar to a brisk walk – a low-impact cardiovascular workout.
INSTRUCTIONS FOR USE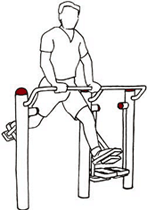 Hold handlebar firmly using both hands.
Climb onto the pedals and begin to walk in a slow and steady movement.
Main Functions
Western oriented approach
Strengthens the leg muscles while simultaneously improving the mobility of the lower back and frontal pelvis area.

Additionally the right-left coordination and sense of balance are trained by means of the pendular movement.
Stamina is also increased.
Traditional far eastern approach
The leg trainer brings the right and left halves of the brain in synch.
The swinging pendulum movement of the legs and pelvis lifts and lowers the body's centre (low dantian). This calms the spirit and simultaneously keeps the life energy flowing.
The main meridians of stomach and spleen on the inner side of the leg and the meridians of kidney and bladder on the back of the leg are stimulated. The metabolism is activated and detoxification aided.
Product Information
Model No.
JS-0231D
Maximum number of users
2
Maximum user weight
150 kg per person
User group
Body height greater than 140 cm (EN 16630)
Material
Stainless Steel and Plastic components (ABS)
Colour
Plastic components "Ruby red" (RAL 3003) – plastic components can also be supplied in any other RAL colours
Certification
Tested and certified according to EN 16630

Equipment dimensions
(LxW)
1863 mm x 535 mm
Height above ground surface
1260 mm
Free height of fall
562 mm (Pedal height 55°)
Movement space
(LxWxH)
4863 mm x 4738 mm x 2762 mm
Similar Equipment
In addition to the Walker or Air walker there are also other equipment models with Stamina as the Main Function.
e.g. the playfit® Elliptical the playfit® Sit and Row or the playfit® Sit and Cycle models

Additional Equipment
If you require a set of outdoor-fitness equipment combined in such a way to allow a coordinated exercising schedule please do not hesitate to contact us.
We will be most happy to recommend an optimal combination based on recommended fitness-training schedules and sports science while taking into consideration any specific customer requirements.